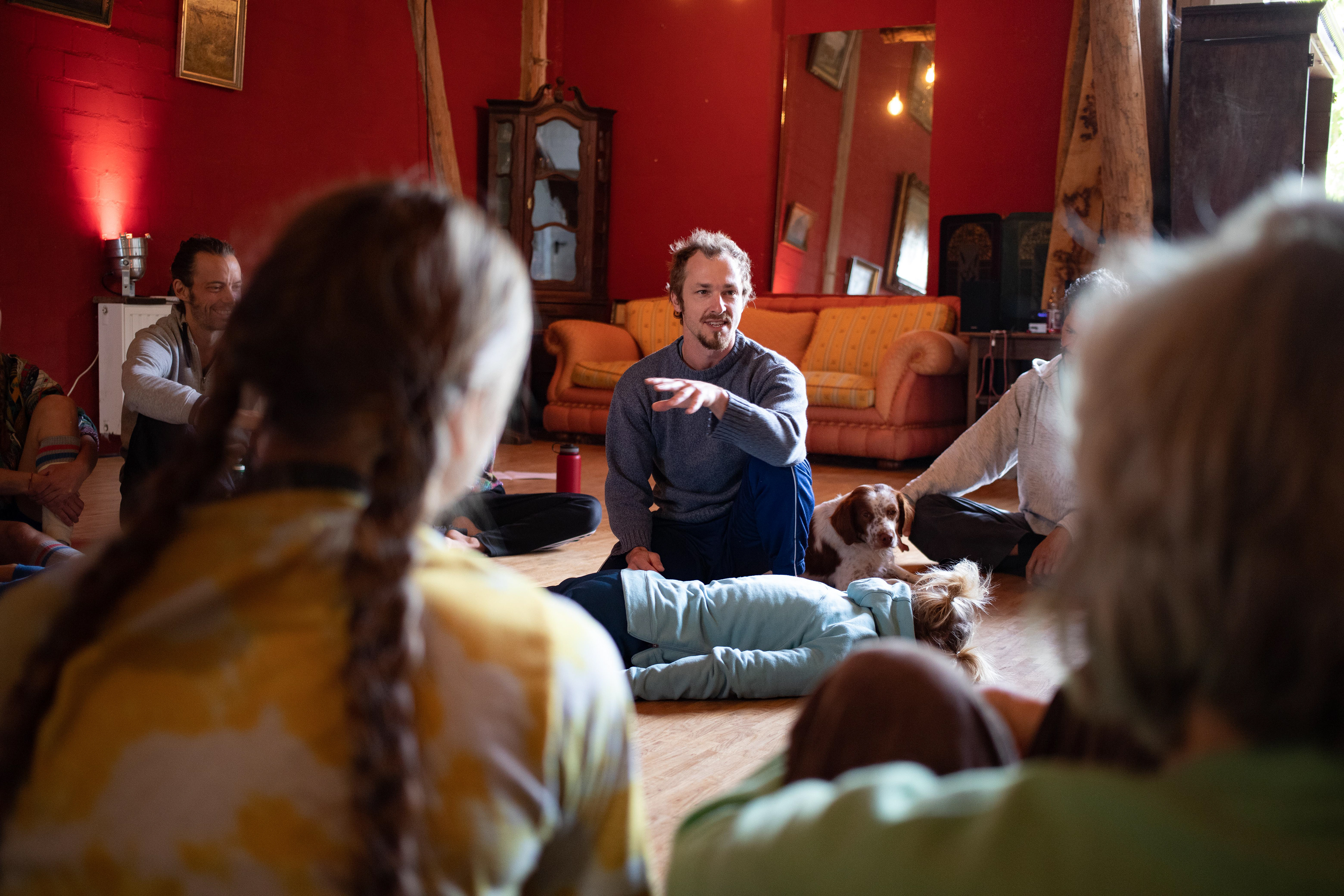 If you have problems with the registration via Google mail, please write me personally with subject: liquid space & grounded base Sommer 24.7.-30.07.23 to: keya@mosso-art.com

Liquid Space & Grounded Base


24.7. - 30.7. 

with Vega Luukkonen, Hugh Stanier & Keya Richter 

Live music : Andrea Junge / "Andiesounds"


A week of Contact Improvisation & Bodywork in a beautiful rural environment, middle of nature, by the lake ! 
You are invited to join us in the village of Barnin (2.5 hours from Berlin towards Hamburg) to dance, connect, nourish and restore.
The mornings will be for Contact Improvisation. 
Focusing on working through developmental movement patterns, finding effortless efficient pathways - and elastic, fluid transitions. With a view into how contact improvisation and movement can have regenerative effects on our body/ mind and deeply influence how we choose to move through life.


The afternoons we will give attention to bodywork and hands-on practices. Experiential anatomy through guided bodywork sessions will give us the space to explore and discover how to offer touch, and will guide us to understand more about our own body and the different layers of our being.
We will offer tools of how to give and receive touch from a space of presence and awareness, which creates held and nourishing space for all of us. From this place the touch that we share can have a profoundly nourishing and restorative effect.
The Evenings are dedicated jamming, and integrating through dancing, or resting, or enjoying the sauna, and sitting by the fireside afterwards. The week is fully catered with 
Nourishing vegetarian food.
Andrea Junge / "Andiesounds", will be our live musician, 
playing and improvising with us !
The calm nature surroundings will accompany us to have a wonderful journey together !

The week will be separated into 2 half's with a more open 'nature immersion' day in the middle.
It is therefore possible to join for just the 1st or 2nd part of the event.
There are a few helper places available which gives you a reduced price.
We Look forward to moving with you !
Keya
Vega
Hugh
Fee
Van 1 Spot left 560,00 €
Dorm  580,00 €
Double/Tribble Room 620,00€
First Half or Second Half
Van 1 Spot left 290,00 €
Dorm  300,00 €
Double/ Tribble Room 340,00€
-------------------------------
Feel you on the dancefloor ! 
-----------------------------------
Over this week Hugh & Vega & Keya will share their love for dance and contact improvisation with you at the wonderful place Barnin !
Venue : you will be informed after registering
Feel you on the dancefloor !